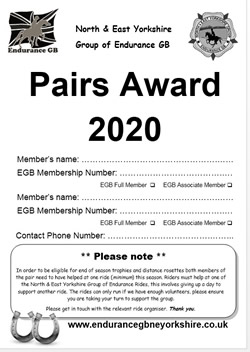 For members of North and East Yorkshire only.
The pair of riders will ride the route together so not only will their distance be the same but their average speeds will be identical to each other.
The award will not be restricted to rides run by the North & East Yorkshire Group of EGB and riders may choose a different horse for one or more rides, it's the riders that are the pair.
Members will need to help at least once throughout the year at a North & East Yorkshire Endurance Group ride.
Collect a copy of the Pairs Award card from the Group Secretary. You can only start collecting the kms, once you are a member/associate member
Or download copy here.