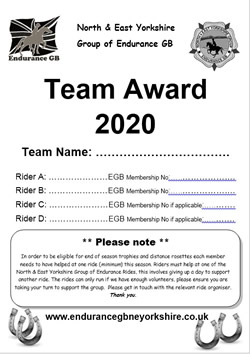 This is for teams of 3 – 4 riders and only North and East Yorkshire Group of Endurance GB rides will count towards your score.
Only 3 of the 4 riders need to participate at a ride for your team to score. This allows each team to have a rider to help at a group ride without the team missing a chance to gain points. 
The points are the kilometres of the route you were riding and the three furthest riders count, eg one team member rides a 60 km route, two do the 40 km and one does the 30 km then if all finish their scores would be 140 (the shortest distance ridden would not count) but if one of the 40 km riders had to retire then you would score 130.
We are allowing upto 2 non-members to be part of your team, this is to try and encourage more riders to try endurance and then hopefully join the group. Any non members would have to pay non member rates for each ride. Non members will still have to help at a group ride or allow your team to qualify for the competition
Collect the Team card from the group Secretary