Awards and Trophies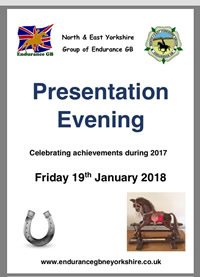 The evening is to celebrate the 2017 season and all the achievements and successes of riders and their horses.
It has been a great season for our members at all levels but especially those of a more tender age, Nicki, Caitlin, Jamie and our 4 Pony Club members (Jessica, Faye, Imogen and Elizabeth) having a fantastic season as have our Riding Club members.
We have had great entries all season - especially in our Pleasure Rides, and this couldn't have been achieved without the help of the ride organisers and all the volunteers who give their time and dedication to ensure the rides took place. Thank you to all those who have helped.
We have a good number of rides already planned for 2018 and we hope to see you all there.
Robert Blane. Group Chair.
Current Awards and Trophies and results from 2017
YORKSHIRE AWARDS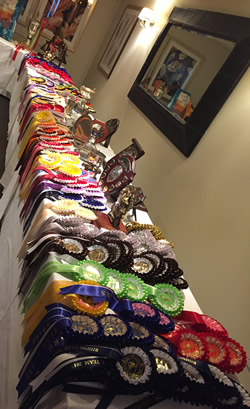 MERIT
Kathryn Featherstone
Charlotte Boig
Helen Ward
Janis Bright
BRONZE
Leanne Manze
Angela Hields
Lee Nichol
Elsie Hodgson
Ed Macholc
LJ Maholc
Alex Ratcliff
Caitlin Birkett
Sharon Davison
SILVER
Becky Stafford
Julie Stafford
Debbie Sadler
Isobel Green
Joanne Rowcroft
Michelle Stanley
Lynsey Bainbridge
Sarah Stanley
Sophie Pichard
Clair Greenbank
Rachel Grindrod
Sue Russell
Tara-Anne Steendijh
GOLD
Jacquie Harrison
Ann Featherstone
Tahnee Burgess
Jamie Shores
Tracy Thompson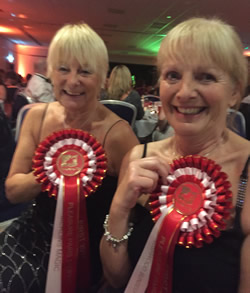 PAIRS
1ST Jamie Shores/Tracy Thompson
2nd Robert Blane/Caitlyn Birket
3rd Sue Russell/Lynsey Bainbridge
TEAMS
1ST UNICORNS
2ND TECWNY SANDWICH
COLOURED HORSE
1 CLOROGUE DOTS
2 TRI-DANCE
3 SAMMY
HOMEBRED
1 RUSHWOOD SUNSEEKER
2 MYRTLE OF COMBEBANK
3 CONSTANCE OF ANSGIOBAL
VET RIDER 60+
1 RICCO ESTA ARTISAN/BUZZ
2 PAINTED LADY/ TRI-DANCE
3 RUSHWOOD SUNSEEKER/HARVEY
VET RIDER 50+
1 RIVERSIDE BAWIKA
2 APOLLO
3 ANDREW PRINCE OF BRECON
VET HORSE 15+
1 PENNY
2 RICCO ESTA ARTISAN
3 LLANNFYLLIN ROSEANNE
VETHORSE 20+
1 ANDREW PRINCE OF BRECON
2 PAINTED LADY V11
3 FAIRNE RAIBEART
BAREFOOT
1 ELFINE
2 BLACK N GOLD
3 MYRTLE OF COMBEBANK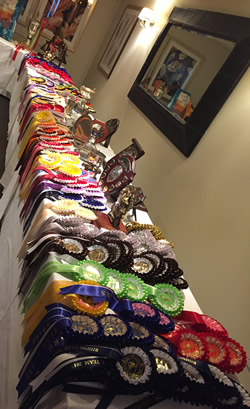 NOVICE
1 MISTLETOE
2 BOWLANDS HOWS THAT
3 ANDERWOOD ROSIE
OPEN
1 BUZZ
2 RIVERSIDE BAWIKA
3 SILVER DUCHESS
OPEN
1 TINKERBELLS IMAGE
2 RICCO ESTA ARTISAN
3 DOONFELLIN KHAMSIN
ER
1 TINKERBELLS IMAGE
2 RICCO ESTA ARTISAN
JUNIOR
1 ANDERWOOD ROSIE/CLEO
2 BINDY
YOUNG RIDER
1 TINKERBELLS IMAGE/DOONFELLIN KHAMSIN
2 MISTLETOE/LLANYFYLLIN ROSEANNE
3 SILVER DUCHESS
PONY CLUB
1 MISTLETOE/LLANFYLLIN ROSEANNR
2 FARCHYNYS TECWYN
3 BINDY
REGISTERED SAXON TROPHY
1 ANDERWOOD ROSIE
2 TINKERBELLS IMAGE
3 RICCO ESTA ARTISAN
UNREG CARO TROPHY
1 PENNY
2 BOWLANDS HOWS THAT
3 CLOROGUE DOTS
POGOLS WOODS PR UNDER 15HH
1 TRI-DANCE
2 BECKSMEETINGS KARIM
3 ANDREW PRINCE OF BRECON
JENNY TROPHY PR 15HH+
1 PENNY
2 CLOROGUE DOTS
3 JONNY
DESERT GOLD TROPHY UNDER 42K
1 BUZZ
2 BENJANA
3 CRYSTAL TOPAZ
STRIDER ADULT ON NATIVE TYPE PONY
1 TINKERBELLS IMAGE
2 MISTLETOE
3 DUKE
GOING SOLO 1ST SEASON HORSE AND RIDER
1 BOWLAND HOWS THAT
2 DUKE
3 ELFINE
IST SEASON HORSE JUST A TROPHY
1 ANDERWOOD ROSIE
2 BOWLAND HOWS THAT
3 CLOROGUE DOTS
TOP 10 POINTS
1 TINKERBELLS IMAGE
2 RICCO ESTA ARTISAN
3 BUZZ
4 DOONFELLIN KHAMSIN
5 MISTLETOE
6 ANDERWOOD ROSIE
7 BOWLANDS HOWS THAT
8 LLANFYLLIN ROSEANNE
9 ELFINE
10 BENJANA
TOP10 PR
1 PENNY
2 CLOROGUE DOTS
3 TRI-DANCE
4 JONNY
JOINT5TH MAJOR/SAMMY
7 RUSHWOOD SUNSEEKER
8 SKIP
9 BECKSMEETINGS KARIM
10 DUKE
TOP10 DISTANCE
1 PENNY
2 ANDERWOOD ROSIE
3 TINKERBELLS IMAGE
4 RICCO ESTA ARTISAN
5 MISTLETOE
6 BOWLAND HOWS THAT
7 BUZZ
8 CLOROGUE DOTS
9 TRI-DANCE
10 DUKE
DISTANCE
30K BINDY
50K DOLLY/INDIGO PIPKINS
100K CANDYPOP
BLACK N GOLD
PADDY
MILKY WAY
BREEZE
APOLLO
BILBO BOGGART7
200K
RUSHWOOD SUNSEEKER
ELFINE
MIRIAM OF COMBEBANK
MYRTLE OF COMBEBANK
FARCHYNYS TECWYN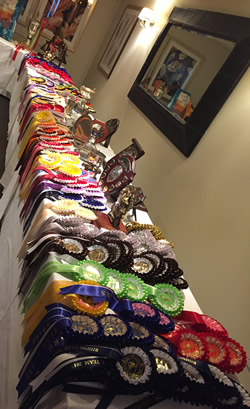 300
DUKE
BOWLAND HOWS THAT
CLOROGUE DOTS
TRI-DANCE
MERLINS MAGIC
400
SAMMY
500
HARBOROS APOLLO
FAIRNE RAIBEART
ANDERWOOD ROSIE
TYLER
600
BENSPREY MITCH
BENJANA
TRI DANCE
700
MISTLETOE
BO BUSK CLEO
800
JONNY
MAJOR
1000K
SILVER DUCHESS
SKIP
CHIKARA
RIVERSDALE BAWIKA
PRINCESS CAMELLA
BUZZ
1250K
DOONFELLIN KHAMSIN
1750K
PENNY
ANDREW PRINCE OF BRECON
2000K
LADARNA OF LONGLEY
2250K
LLANFYLLIN ROSEANNE
2500K
RICCO ESTA ARTISAN
2750K
MURPHY HIMSELF
3750K
PAINTED LADY VII
4000K
PAINTED LADY
4750K
CRYSTAL TOPAZ
Crew Award
Rick Harrison
Wibbly Wobble Trophy
Robert Blane
North Yorkshire Group Special Award
Linda Birkitt
Volunteer Prize
Angela Heilds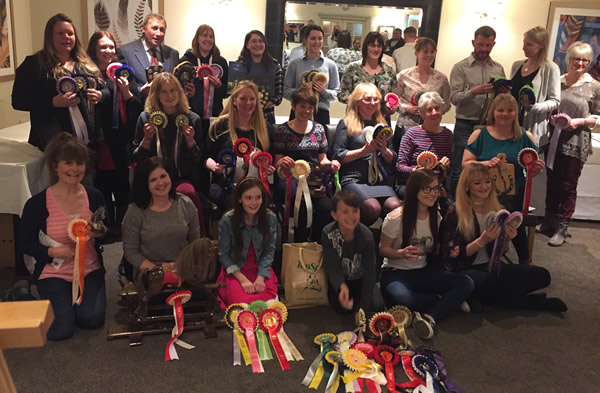 Photographs of the evening, by Andrew Ray are available at www.marimages.co.uk
[ Results from 2016 ] [ Results from 2015 ] [ Results from 2014 ]