North & East Yorkshire – Presentation evening. January 2022
North & East Yorkshire Group of Endurance certainly made the most of the opportunity get together for the Annual Brach AGM and Presentation evening  and came together for a lovely evening of celebrations
The evening started off with the main AGM where the Chair, Robert Blane thanked members, volunteers and the committee for all their support during this past year, 2021 certainly was a different year, but thankfully we were able to run a number of rides which members appreciated.
Robert thanked Bridget and Nikki Brown and Heidi Lewis who were retiring from the Committee this year. Bridget and Nikki have been members of the committee for a number of year and the past couple of years took the role of join secretary, they have now passed the Secretary role over to Ann Featherstone. Heidi is another committee member who again has been around and supported the club for many years, running the popular Dialstone ride and often seen marking up a number of rides. Thankfully these three are still keen to support the club and not far aware to share their knowledge and expertise.
The presentation of awards is always the highlight of the year for some riders and handing those distance cards in at the end of the season is a fantastic achievement. This years awards were presented by Tom Ferreday, from Beningbrough Equine, who has often been the Vet at our rides.
North & East Yorkshire Group of Endurance run their own  Yorkshire Awards, where member can achieve a Merit, Bronze, Silver or Gold Award, by completing the club rides. Claiming her first rosette was Chloe Brittenden who proudly achieved a Merit award. Bronze was given to Kathryn Featherstone, Sue Russell, Nicola Stanier, Taylor Brown and Sally Barret. Silver to Ann Featherstone and Lindsay Bainbridge and the only Gold this year was claimed by Samantha Pross-Higden.
Yorkshire Awards Pairs, in second place was Kathryn and Ann Featherstone and 1st Place to Nicola Stanier and Taylor Brown.
Onto the main trophies:
High Point Advanced went to Cumbria Black Kareem, High Point Open was Chikara, High Point Novice was Oakthwaite Sandsero. Hight Point for rides of 42k and under 1st Silver Zeph.
Horses under 15 hh for highest distance in Pleasure Rides 1st Knavasash Harley. The Jenny Trophy for horses over 15 hh in pleasure rides went to Penny. Veteran horses 15 – 19 years was Chikara, Veterans over 19 goes to Penny. The Trophy for the unregistered horse goes to Corravale Cariad. Registered horse with the highest distance is  Oakthwaite Sandsero. Ponies under 14.3 ridden by an Adult Oakthwaite Sandero, The Veteran rider for the over 50 was Janet Bowes and over 60s Sue Russell. The coloured horse this year was Silver Zeph.
It's good to see our young riders coming through and enjoying their riding season, Young Rider Award for 14-21 years was 2nd Rachel Mitchell and 1st Taylor Brown.
The Benjamin Cup for our younger riders this was 3rd Chloe Brittenden, 2nd Kathryn Featherstone and 1st Jamie Shore.
The Barefoot award was 1st Windgap Jack.
Going Solo is for rider and horse in their first season of competition, this year was awarded to Janet Bowes and Hexagons Ladalko, who has done amazing this year and many rosettes for Janet to take home during the evening.
Just a trophy for horses in their first season of competition  was Oathwaite Sandsero proudly owned by Bridget and Nikki Brown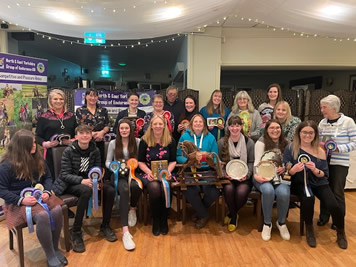 .
We also offer awards to our club members who are also pony club members, this year 3rd was Chloe Brittenden, 2nd Rachel Mitchell and 1st was Kathryn Featherstone.
Riding Club Awards were given to Sally Barrett, Siobhan Shepherd, Linda Birkett, Tricia Heaps and Caitlin Birkett.
We have numerous distance awards this year, starting of with Duke with his 50 KM, upto 1,500 for Skip and Silver Zeph, 1,750 km for Cumbrian Black Kareem and 2,000 for Buzz.
We had a retirement Rosette this year for Crystal Topaz, Crystal Topaz has retired from Endurance after 16 years of taking part, doing upto 80km race rides. Owner Becky Pearson said she'd had miles of fun together over the years and won many rosettes and trophies. He managed to claim 5,000km distance accumulative miles. Crystal Topaz is going to have a nice pampered retirement with Becky. Crystal Topaz was awarded his rosette and a lovely crystal glass from Bridget Brown of HH Crystal Horses,  who actually bread Topaz. Bridget has really enjoyed seeing the partnership blossom between Becky and Topaz over the years and always there to offer support and guidance.
In North & East Yorkshire we offer a Volunteer Award, this is an award to a member of volunteer who has supported the group. This year it was awarded to Jackie Moon. Jackie has really supported the club at many events and it's very much appreciated.
This years Special Award, our Rocking Horse award goes to the two people who managed to pull of running the Home Internationals  at Cropton, Sarah Wilkinson and Claire Greenback, very well deserved and a great achievement, not only for the club but for Endurance GB.
During the evening there was a raffle, this year was in aid of the Cleveland Mountain Rescue and member kindly donated gifts. We raised the great amount of £183, which I'm sure there will very much appreciated.
Robert closed the evening and thanked everyone for coming and we look forward to offering our rides in North & East Yorkshire again in 2022.

[ Results from 2019 ] [ Results from 2018 ] [ Results from 2017 ] [ Results from 2016 ] [ Results from 2015 ] [ Results from 2014 ]