News
January 2022
Annual presentation for 2021 .. more details and pictures from a great night ..
August 2019
Report on the Pony Club Endurance Championships.
By Robert Blane
Nick Brooks-Ward and HPower yet again invited the Pony Club to run their Endurance Championships at the HH Sheikh Mohammed Bin Rashid Al Maktoum UK Endurance Festival at Euston Park; this year in conjunction with the European Endurance championships. What an opportunity this was for our membership to mix with professionals from many nations. Twenty-two branches and two centres provided the qualifiers to take part at this amazing venue where they were spoilt not only by great tracks and amazing facilities, but by the most wonderful atmosphere.
.. read more ..
£500 raised for Yorkshire Air Ambulance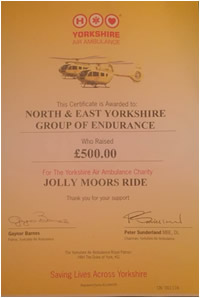 Thank you to the ride organisers, Ian, Claire and Laura Jane, all the volunteers and lovely riders who supported the Jolly Moors Ride back in May, held at The Fox Inn, Roxby by kind permission of Alison Wilson.
The club was able to donate £500 to the Yorkshire Air Ambulance, a fantastic amount raised over the weekend.
The Yorkshire Air Ambulance is an Independent Charity and rely on the generosity of the public and organisations. www.yorkshireairambulance.org.uk
They operate two helicopters and need to raise £12,000. every single day. They are called out on an average 4 times every day, attending over 1,200 incidents a year.
A worthwhile charity who appreciate our support.
August 2018
Report on the Pony Club Endurance Championships.
By Robert Blane
On the A11 from Newmarket to Norwich you drive past the small town of Thetford and on the road side could be seen the first of many direction markers for 'Euston Park Endurance'. This is the best of starts, I thought as I made my way down to help run the Pony Club Endurance Championships on the 19th of August, as there is nothing worse, after a long journey, in not actually being able to locate the venue you are aiming for. Following the direction markers I entered the gates of Euston Park and there started what could only be described as the most perfect weekend for the Pony Club members who attended
.. read more ..
October 2017
Yorkshire Pony Clubs come to the fore.
A great day was had by all at the Pony Club Northern Endurance Championships at the Royalties in Lincolnshire with the Area 3 members showing they are experts in this field.
In the novice class the first 4 competitors home completed the 33km course in 11.92 kph (precise riding since the fastest you could go was 12kph). Young and very petite Jessica Lewis from the Hurworth took the honours, finishing with a heart rate of 32 bpm showing how fit she had managed to get her pony and a just award for all her hard work she has put in this summer. She was closely followed by the 3 BWY girls (Elizabeth Molyneux, Imogen Lockwood and Faye Greensit) all new to Endurance this season and a great achievement for them.
The Intermediate class was won by Iola Chapman of the Quorn Hunt on her lovely Anglo-Arab 'No Money No Honey', and with great excitement the Open prize went to Caitlin Birkitt of the Vale of York. Having come second in the past two years Caitlin pulled out all the stops and completed the course in a speed of 14.58kph and showed real courage finishing the 53km course with a badly strained muscle in her right leg. (never believe anyone who tells you that Endurance riders are wimps; this was a real battle of mind over matter.) Second, also showing a good time of over 13kph was Rebecca Parsler of the Whaddon Chase.
Many thanks must go to the Beeswax Estates who bent over backwards to welcome us, Thay Stephenson who organised this wonderful day and to Silverfeet and Emerald Green Fields who provided prizes.
I am already looking forward to next year.
Robert Blane
July 2017
Ride report available to download for Aram Grange (July 16th 2017). Download here
May 2016
🍀🍀Jolly Moors Raffle Winners🍀🍀
Many thanks to all the people who kindly supported the fund raising event at the Jolly Moors Ride.
We raised £60.30 on the raffle and the cake stall made £145.20
The money will go to the Great North Air Ambulance.
Thank you to all involved in the weekend, who ensured the smooth running and organisation behind the sene most of which we never see during the day, all the fantastic volunteers who gave up their day/s and to all the group members and friends who baked some lovely cakes, and the Fox Inn for making us so welcome.
🌟JOLLY MOORS RAFFLE RESULTS🌟 7TH/8TH MAY 2016

PROCEEDS TO GREAT NORTH 
AIR AMBULANCE.

1ST 736 LUCY WALKER          WHITE WINE

2ND 811 HILL                  BUTTERFLY CHARM

3RD 801 HELEN WARD             HAND CREAM

4TH 911 LIZ WORTHY               GIFT SET

5TH 866 JULIE LINDER             WHITE WINE

6TH 831 JACKIE                          GIFT SET

7TH 681 MELISSA                       RED WINE

8TH 806 CAROLE NAGLE          COMPACT

9TH 746 KAREN                           COMPACT

10TH 846 JO GRUNWELL            HORSEY CHARM

11TH 671 DEBBIE SADLER         CHOCOLATES

12TH 661 PAUL FEENEY              OWL CHARM

IAN WILL BE IN TOUCH WITH WINNERS TO ARRANGE DELIVERY OF PRIZES
January 2016
Our Annual Awards ceremony went great. View the pics, video and results here.
November 2015
Our last ride of the season was heavily oversubscribed and sadly we had to limit entries to 70.
The riders took the Halloween theme very seriously and there were some amazing costumes.
We were very gratefull to Tim and Sarah Parkinson who kindly let us use Forge Farm at Thirlby as our venue. The heavy rain earlier in the week nearly caused us to have to cancel the ride but thanks to some generous land owners we were able to go ahead. The morning of the ride was foggy but it rolled away in time for the first riders and revealed brilliant sunshine.
We had 3 loops with an option of 6, 12 or 18k and all the riders were pleased that the due to the kindness of Trevor Fowler Jones and the Macdonald family we were able to cut across their private land to avoid a busy road section.
Sarah Parkinson did a brilliant job of judging the fancy dress and the showing classes.
The results were:
Senior Fancy dress
1st Leanne Manze
2nd Lee Nichol
3rd Andrea Stewart
Children's Fancy Dress
1st Grace Dickinson
2nd Jamie Shores
3rd Olivia Hooper
Best Turned Out
1st Lynsey Bainbridge
2nd Linda Murphy
3rd Ann Featherstone
Best Condition
1st Lynsey Bainbridge
2nd Karen Hynes
3rd Isabel Murphy
Veteran Horse
1st Judith Ratcliff on 17 year old Emma
2nd Helen Ward on 30 year old Wayside Falcon
3rd Daisy Dixon on 21 year old Crystal Jobaar
Horse/pony the judge would like to take home
1st Olivier Hooper on Merry Legs
2nd Karen Hynes on Sam
3rd Jamie Shores on Cleo
Treasure Hunt
1st Ann Featherstone
2nd Helen Ward
3rd Lesley Owens/ Heidi Lewis
The ride was run as a fundraiser for The British Red Cross to help with the refugee crisis and we raised a grand total of £931.
This was helped out by a very busy band of helpers who served home made cakes and hot drinks and from the tombola.
Tracy Thompson
June 2015
North East Yorkshire Group of Endurance GB raised £300 for the Great North Air Amulance. Congratulations to Laura Jane and Ed for on putting on such a great event.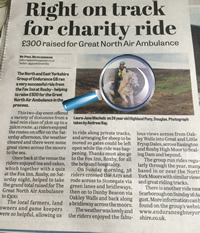 January 2015
New Competition for 2015 TEAM AWARD .
This is for teams of 3-4 riders and only North and East Yorkshire Group of EGB rides will count towards your score.
Only 3 of the 4 riders need to participate at a ride for your team to score. This allows each team to have a rider to helping at a group ride without the team missing a chance to gain points. And what are points I hear you ask.......points are just the kilometres of the route you were riding and the three furthest riders count, eg one team member rides a 60km route, two do the 40km and one does the 30km then if all finished their score would be 140(the shortest distance ridden would not count) but if one of the 40km riders had to retire then the team would score 130.
We are allowing up to 2 non-members to be part of your team....this is to try and encourage more riders to try endurance and then hopefully join the group. Any non members would have to pay non member rates for each ride. Non members will still have to help at a group ride to allow your team to qualify for the competition.
You will need to download a form from the website for each member of your team before you participate at your first ride of the season.
If you send your team name and kilometres ridden by each rider to ansgiobal@tiscali.co.uk within a week of the ride a provisional results and placing will be posted on the group website.

New Competition for 2015 The Pairs Award
This competition is for group members only and your pairing will need to download the form HERE before your first ride of the season. The pair of riders will ride the route together so not only will their distances be the same but their average speeds will be identical at each ride. This award will not be restricted to rides run by the North and East Yorkshire Group of EGB and riders may choose a different horse for one or more rides, it is just the riders that are the pair. The results will be on the total distance ridden in the season(2015) and placings will be announced at the group AGM.

The Yorkshire Award Rules 2015
The Yorkshire Award has 2 categories, the first is for North and East Yorkshire Group of EGB members riding at North and East Yorkshire Group rides only.
To achieve a Yorkshire Gold Award you will need to ride 201km (approx 126 miles) or more in 2015. This is a challenge for the riders who do competitive rides as well as Pleasure Rides.
A Yorkshire Silver Award is for those who ride 101-200km (approx 63-25 miles) in 2015
A Yorkshire Bronze Award is for those who ride 51-100km (approx 32-62.5 miles) in 2015
A Yorkshire Merit is for those who ride 25-50km (approx 15.5- 31.25 miles) in 2015
The Yorkshire Bronze should be within the reach of most Pleasure Riders and those Pleasure Riders who are dedicated are likely to gain a Silver Award as it looks like there should be over 105kms of Pleasure Rides run by our group in 2015. However this figure is not set in stone due to the vagaries of the British weather and other unforeseen circumstances.
The Merit is for those with novice horses at the start of their careers, or older horses who maybe still enjoy Pleasure Rides but are no longer able to do more than 20km, and for our younger members who are only allowed to do short rides.
The second category of the Yorkshire Award is for riders who are not members of EGB. If they ride more than 50 miles/80kms in 2015 they will be get a Yorkshire Award certificate.
Potentially there are at least 105 kms of Pleasure Rides run by the North and East Yorkshire Group in 2015 so a Yorkshire Award Certificate is a target than can achieved by attending 4 group rides and completing 20km/12.5 miles at each ride.
This is not an award with an overall winner at the AGM but a personal achievement award. To enter you need to download the entry form HERE and you will need to do this before your first ride of the season so you can collect all the required signatures.

December 2014
Congratulations to all who took part in Gaby's Ride at Thirlby. We raised a grand total of £653.00 for the charity.
There were some amazing outfits and the award for "Best Witch" went to Angela Hields and the junior award to Eva Radcliff.
The person raising the most sponsorship was Daisy Weston.
November 2014
All mileage cards are to be returned to Heidi Lewis before the 12th December 2014.
Congratulations to Robert Blane and his Beadale and West of Yore Pony Club, who have won the junior championship! **Well Done Robert**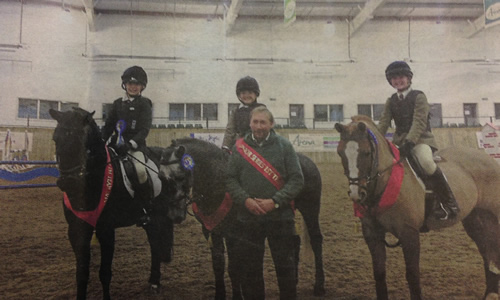 Cassie Ramsay on Samson. Lucy Barker on Marmite. Lucy Hattersley on Mickey.
Robert Blane.
October 2014-The branch annual meeting(the equivalent of an AGM) will be at The Feathers, Helmsley, on January 14th 2015 from 7pm.
Tack and Tog Sale also on the night and food is available prior to 7.30pm start. Raffle prizes would be greatly appreciated.
As usual The Feathers will be serving a variety of lovely meals and there will be plenty of rosettes and trophies to be awarded plus the chance to catch up with friends. We do hope you can all come along.
Do not forget the group is running a photography competition with a prize to be awarded at the annual meeting. Each member can enter 1 photograph/ride either taken by themselves, their family or their crew. All photographs entered will become copyright of the group and may be published on this website.
More details ..
August 2014 -Congratulations to North and East Yorks EGB member Catriona Moon.
Catriona has been selected to represent Great Britain at the Endurance World Championship in France later this month. Her mount is 16 year old Leila and they will be competing in the 160k ride. The pair are no strangers to this distance and have five succesful completions under their belts.
Catriona is a vet and works at Station House Vets at Welburn.
She has been doing Endurance for many years and was a member of the British young riders team in 1997/ 1999/ 2001 and 2003. We would like to wish them every success.
We also have two members competing in the English Team at the Home International at Kirk Yetholme in Scotland. Bridget Brown and Murphy himself are doing the 80k class and Tracy Thompson and Just Giles doing the 120k.
Tara Barker was selected as junior team member but sadly won't be joining them as the pony has a virus.
June 2014 - Photography Competition - ..more details ..
February 2014 - Newly formed North Hambleton Highways Group are having their Launch Night on Wednesday 19th February 2014 at 7.30PM at the Royal Oak, Great Ayton. All Welcome. .. more information ..
January 2014 - We will miss you Mike: .. Read more ..
January 2014 - Awards/AGM- View all the awards presented at the AGM here
January 2014 - From January 2014 Associate Membership is £35.00 per annum.
This can be paid online via Endurance GB website or members can continue to send cheques to myself:- Lesley Owens, Kennel Farm Cottage, Knayton, Thirsk YO7 4BS and I will forward to the EGB Office.
Associate Membership Benefits:
Group Training & Social Rides @ members rates
Entry to National Pleasure rides @ members rates (this is new this year)
A copy of the EGB Handbook
EGB Magazine
Insurance - Associate Member will be covered by the current EGB Insurance agreement (Public Liability) only at a Group ride or event or during a National Pleasure Ride.